Feedback System
Customer feedback will help your business improve its existing line of products and services. You are a few steps away from including the request feedback option in your bot. This feature enables you to collect the feedback from users. This feature is available in conversation snippets, small talks and FAQs.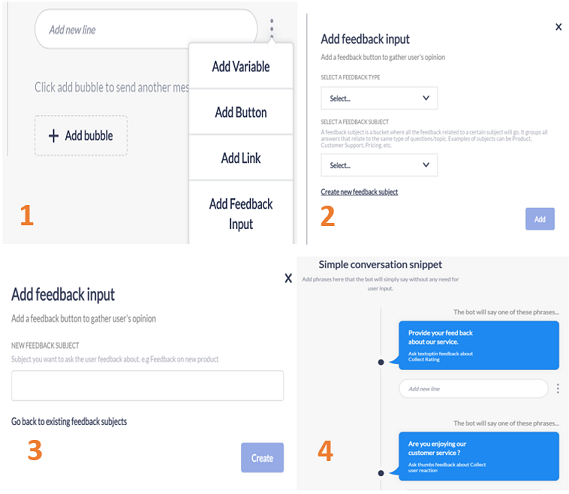 Add Feedback input
To add feedback to the message, enter the appropriate question in the message and click on the vertical ellipsis near the chat bubble. Select the 'Add Feedback Input' option from the list to enable the feedback form to that message.
Choose the feedback type
There are two ways to collect the feedback. Select the suitable type from the dropdown to collect your feedback from the user.
Text(Opt-in) - Feedback request will appear in the chat window with a text box to collect a user's feedback as text message which can be later analyzed in the tool like 'Explorer' to get insights from the set of feedback collected from the users.
Thumbs - Feedback requests will appear in the chat window with thumbs up and down icons. Thumbs up means positive or good and thumbs down means negative or poor.
Choose the feedback subject
Select the subject from the list of existing subjects. Feedback subject is used to gather all feedback related to the same question/topic to analyze them together. You can also create a new subject by clicking on the 'Create new feedback subject' option in add feedback input pop-up.
Create new feedback subject
In order to create a new feedback subject provide a name to the new feedback subject and click on Add. The new feedback subject will be added to the list and the feedback reference will be included in the message.